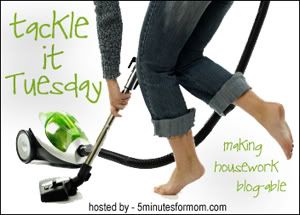 Whoooooa Doggy! This space really got out of control. It really wasn't that I didn't have time to clean it and keep it that way, I just chose not to. I had it!, walking past this every morning and then again on my way to bed, knowing what was lurking behind those doors. A disaster...and the rest of the space was cluttery. I cheated a bit and did this on Monday because I have an appointment on Tuesday. BEFORE PICTURES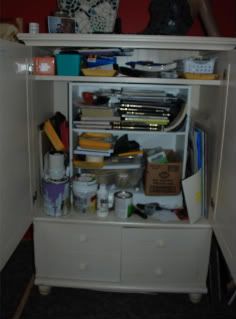 Children's table
A view of the space in General, my table completely covered!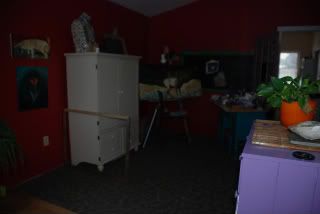 AFTER PHOTOS...........oooooooooooooh,aaaaaaaaaaaaaaaah!
Much better!
I hung up the finished Elk painting, moved the orange desk over to the niche next to the armoire, hung up my Daughters artwork over there as well, It really opened the entry into the studio coming up from the stairs. The large wicker hamper holds unfinished gourds.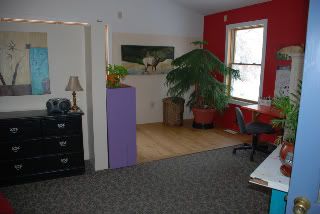 My table, it is a juxtaposition of 1/2 of an old door, vanity cabinet and my funky mosaic door that used to be my front door to the house...now keeps me company. It serves as a visual divider and I still love it. A true expression of my self.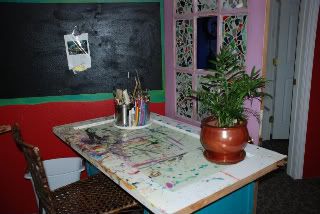 I have always loved niches, a space dedicated to a purpose. My daughter is artsy as well, this is her table and she spends a fair amount of time up here. Her supplies are in the purple dresser.
After the clean up and re arranging of items i did a brief space clearing ceremony via Karen Kingston, blessing the space. Lovely! I do believe a brass singing bowl would indeed finish the area, my birthday is coming up and that is what I will gift/bless myself with. Perfect!
This is my favorite space in the house, it really reflects who I am. I love to read, paint, listen to music and I love that my kids come and hang out with me.
What is your favorite place in your house?
Val