Well this is fun and good for my brain, it makes me think and get creative. You should try it!
Avocado, yellow pepper, cheddar cubes,broccoli, cukes, carrots, grapes and 2 dips, 2 eggs with soysauce. My hubby and I shared, this thing holds alot!! Salad bar in a box!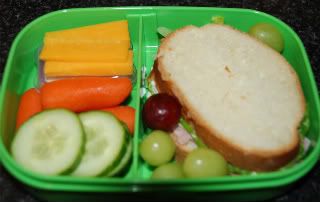 What the kiddos took to Tracy's house, I did make 2 the same.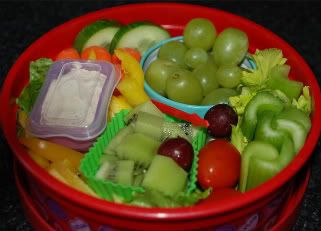 Birthday Bento for my girlfriend, she is doing WW's right now so I decided this was perfect! It is in a Valentine cookie box that is round, these are great for bento boxes and the lids are secure. Keep your eyes peeled you should be able to find these after V day and St. Patricks day as well.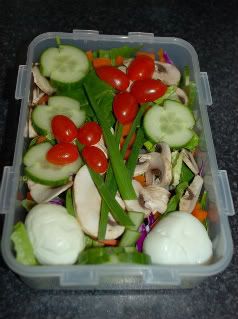 Super Simple Man Flowers...hey a man can have flowers! Just a salad with tomato and cuke flowers, onion stems and eggs.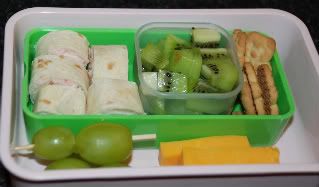 Kiddo Lunch comprised of Krab wheels, kiwi, cheddar cubes, and grapes with teddy grahams to keep her company.
Krab salad, meatball with sauce on the bottom, celery sticks, squeeze cheese, grapes (she did have some turkey pita bites in between so not to have Krab 2 days in a row, just no picture of it.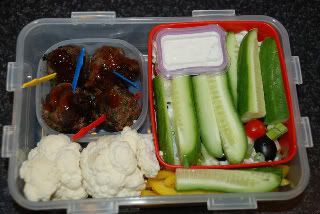 Now this was fun, under the cukes is some more olive and tomato flowers on top of hubbies Krab salad, like a little lunch surprise. Yellow peppers, cauliflower, meatballs, and ranch dip. My husband and daughter are loving the way their lunches are turning out! I am loving the whole process. They are eating much better as well with getting more fruits and veggies.
Is it simple? Yes I think so, it just takes some thinking on my part, planning ahead, I am making them in the evening when I am cooking dinner, so really its not that much more work. I already have the cutting board and knives out anyways. Plus I am more creative at that time, not so much at 6:30 in the morning. The other aspect I want to teach by example to my children is to take a pack lunch. This is valuable down the road. When they are in that habit, they will be less likely to succomb to the pitfall of convenience store or fast food junk later in life. It will seem *gasp* "normal" and just part of their day. At least that is what I am shooting for anyways.
chacha chacha cha cha.....bento bento bento....sing it with me now gals!
Adios Amigos
SC