Rotating Breakfasts
oatmeal, fruit, yogurt with protein powder or oatmeal with a protein fruit smoothie
Veggies with scrambled eggs, carb balance tortillas
Snacks: Almonds, celery sticks, apples, mandarin oranges, hard boiled eggs, cheese, bananas
Cheats and Treats: Peanut butter chocolate chip cookie, apple crumble, ice cream
All dinners served with a vegetable and salad
Monday: Turkey, Feta and grapes on Greens with croutons, tomato basil soup
Tuesday: Pepper Steak, baked potatoe
Wednesday: Chicken Marsala, baked zuchini sticks
Thursday: Empanadas
Friday: Turkey Meatballs with Marinara sauce
Saturday: Leftovers
Sunday: Baked Lemon Pepper Chicken
All lunches are carry over from the night before.
I set myself up for success by chopping all my celery sticks, cukes, mushrooms, salad, green onions, cabbage and the like for the week on Saturday. No excuses for those pitfalls, and boy does it make it a snap to fix dinner and those breakfasts. Mid week I fix another big fresh lettuce salad as we run out quite quickly but I dont want "tired lettuce" at weeks end. The one pre made item I do buy is jullienned carrots for the salad.
Sooooooo....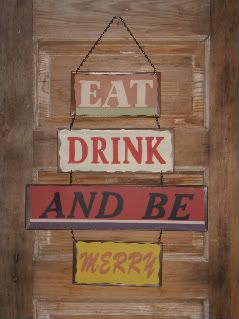 Now that's good eats cowgirls
s.c.