I am still working on my 28 Day Challenge. The last week of February I did not work on any of it, due to 2 chiropractic visits and a very sore sore neck. I snuggled with a heating pad for 4 days. So I am going to plan on getting paint buckets out and hit it. I did learn something through the process, do not over schedule yourself. I did a bit, but once I got going I dropped some projects and then added others that needed to be done. So really I did get quite a bit finished.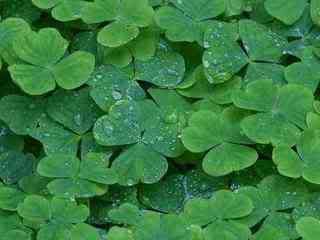 The best thing about March.....shamrocks. I love the simplicity of them and heck even the name just rolls off the tongue nicely. Say it....Shamrock, I love the way it sounds. Now say it until the word has no meaning, that usually took about 50 times for us as kids. Look at them, all colors of greens and with the water droplets. I swear I can smell the freshness of Spring. Life will be popping up all over the place with baby calves, lambs, piglets, tulips, crocus and the like.
Hey did you thee that?
What is there not to like about spring, well except for mud.