MMMM strawberries, and today we will be making strawberry jam.
Find willing children to squeeze and mush up fruit after you have hulled
Its really easy. 5 cups strawberries, 1 box pectin mix and stir over medium heat till rapid boil, stir in 8 c. sugar bring to rapid boil, you may add 2 tsp of butter to decrease foaming. Into thee jars.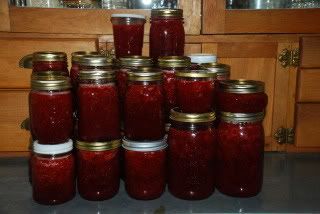 We ended up with 35 pints and we started with 24 pounds of berries, we ate some, a few didn't make the cut, so that is a rough estimate of what you will end up with.
I could have done the all berry method of cooking them down to concentrate the sugars in the fruit but I chose not to this time around. My husband loves this jam on this bread.
Basic Bread 2 loaves
2 T yeast
1/3 c. honey
2 1/2 c warm water
let sit until its good and bubbly
add 1/2 c. oil
1 tsp salt
6 cups of flour
If I use whole wheat flour I decrease the amount I use. Knead and turn out into an oiled bowl,cover and let rise to double. Punch down, shape, let rise again....325 for 25 minutes and your kids, neighbors, relatives and husband will think you are the queen of the kitchen.
How simple is that!!!!
xoxo
Val